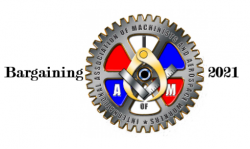 We are continuing with our commitment to all members of communication about Bargaining!
The union served a response to an estoppel concerning overtime that was served at the beginning of bargaining by the company. This notice clearly stated we DO NOT agree or accept Kal Tire's interpretation or proposed enforcement. It is the Unions view that any hours or days worked outside or in excess of a normally scheduled workday or shift shall be paid at overtime rates.
Round two of bargaining was fruitful as it produced a complete package from Kal Tire. This package came at the end of a four-day round and leaving no time for review or counter proposals. Your Union committee is meeting soon to work through the package we received from your employer. We are also awaiting information we have requested from Kal Tire to bargain intelligently.
New Proposals:
A $2000.00 onetime lump sum payment for non-probationary employees as of April 1, 2021 in place of a 1st year increase
Housing subsidy to be changed to northern living allowance at $600 per month and to end at 60 months for members hired in 2014 to March 2017. Members hired after 2017 will not receive Northern Living.
A three-year deal with all Pay Schedules to use CPI (customer price index) for raises no greater than 2.5% or lower than 1%, year 1 = 0% and TBD for years 2 and 3.
Kearl 338: shift change to 14/14 and removal of inconvenience pay language. As the employer is no longer providing inconvenience pay.
Fort McKay 338: reference to third vehicle and inconvenience pay in Fort McKay language removed. Any crane truck operator will receive $3.51 per hour for all hours operating a crane truck. Implementation of a new wage schedule, Techs hired or transferred after April 1st, 2021 will be on Pay (A rate) $43.17, (B rate) $39.93, (C rate) $36.94, (probationary) $34.16.
Town Store 643: introduction of a part time Tire Technician at no less than $20 per hour.
Employer as added a revised proposal for 6.02 regarding a new shift. New proposal requires Union agreement but adds a timeline and parameters.
Kal Tire still has significant on the table from the first meetings such as RRSP plant to their RRSP/DPSP, extension to their disciplinary notices to 18 months, STD/Sickness plan capped at 96 hours, removal of serious physical illness/injury article and removal of layoff pay in lieu of notice.
We encourage engagement with your Committee, Stewards and fellow Members!
In Solidarity:
Your 2021 IAMAW Local 99 Bargaining Committee