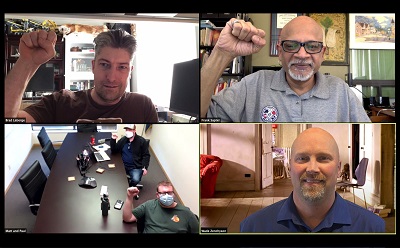 On March 2nd to March 4th LL99 executive members Brad Laberge, Paul Chandler and Wade Zenchyson along with Business Rep/Organizer Matt Barnable attended a virtual web design and communications training course hosted by IAM Canada Communications Rep. Frank Saptel.
This course is designed for locals and districts to be able to easily maintain and update their websites and effectively communicate with their members. Our goal with this training is to provide more expedient and efficient communication to our membership, assist in our efforts to organize new members, and to provide resources to help our stewards do their jobs on the shop floor.
Having multiple officers trained and available to provide updates will help us to ensure that this happens. Communication is the most important function of your local executive, but communication also means that we want to hear from you, our members, and share your experiences and input. One of our goals is to highlight our members outstanding contributions to their local communities. If you are active in your community outside of work, we want to hear from you so please reach out to us at LL99Executive@iamaw99.ca to share your story.
"Justice on the job, service to the community."